Nvidia Shield Android 4K Media Player
Preis und Verfügbarkeit
Produktbeschreibung
Zubehör
Wir führen diesen Artikel in unserer Ausstellung. Die AV-Fernbedienung ist inbegriffen.

Dies ist der Beste 4K Medienplayer. Die HD Audiosignale werden zur Zeit als PCM Channels ausgegeben. Bitstream wird noch nicht unterstützt. Weiter ist ein Tool "TVHZ" notwendig aus dem Playstore, um die Framerate zu setzen. Oder man konfiguriert den Kodi entsprechend.

Info: Das Gerät lässt sich entweder mit der TV Fernbedienung per HDMI CEC steuern. Kodi, der Medienplayer, lässt sich auch mit einem Smartphone und der Applikation YATSE (Android) oder SYBU (Iphone) steuern. Wenn man Kodi in den Autostart setzt, braucht man den mitgeliefert Game Controller nicht mehr. Eine normale Fernbedienung, wie auf gewissen Bildern von NVIDIA abgebildet, ist optionales Zubehör und nicht mitgeliefert.
Exceprt from http://www.anandtech.com/show/9289/the-nvidia-shield-android-tv-review

The battle for the living room (i.e, controlling the television experience) is heating up with forays from multiple vendors. As the cord-cutting trend gains momentum, the time seems to be right for disruption. Roku has been around for a long time and they continue to taste success with inexpensive and small over-the-top set-top boxes (OTT STBs). At the other end of the spectrum is the Apple TV, which, despite just being a 'hobby', has managed to move millions of units. Google had tried to make inroads into this market a few years back with the Google TV / Logitech Revue, but, it unfortunately didn't pan out as expected. Chromecast turned out to be more popular in their second attempt, but it was a limited play. In late 2014, Google launched Android TV along with the Nexus Player.
Coinciding with Google I/O, NVIDIA is releasing their previously announced SHIELD Android TV. First announed back in March at the 2015 Game Developers Conference, SHIELD Android TV is a premium 4K-capable over-the-top set-top box (OTT STB) with a powerful graphics engine. The differentiating aspects compared to the Intel Bay Trail-based Nexus Player and the Qualcomm Snapdragon-based Razer Forge TV lie in 4K support (HDMI 2.0 / HDCP 2.2 / Netflix 4K-certification) and excellent gaming credentials.
| | |
| --- | --- |
| | NVIDIA SHIELD Android TV |
| SoC | Tegra X1 (4x Cortex A57 + 4x Cortex A53, Maxwell 2 SMM GPU) |
| RAM | 3 GB LPDDR4-3200 |
| NAND | 16GB NAND + microSD + USB |
| Display | N/A, HDMI 2.0 4Kp60 Output |
| Dimensions | 210 x 130 x 25mm, 654 grams |
| Camera | N/A |
| Battery | N/A, 40W Power Adapter |
| OS | Android TV |
| Connectivity | 2x2 802.11a/b/g/n/ac + BT 4.1/BLE, USB 3.0 + 2.0, HDMI 2.0 + HDCP 2.2, IR Receiver, Gigabit Ethernet |
The NVIDIA SHIELD smart TV platform comprises of three distinct products, the SHIELD console, the SHIELD wireless controller and the SHIELD remote.
The SHIELD is the main console, integrating a Tegra X1 SoC along with 3 GB of LPDDR4 DRAM and 16 GB of storage. I/O ports include two full-sized USB 3.0 host ports, a USB 2.0 micro-USB device port, GbE RJ-45 port, IR for universal remotes and 802.11ac 2x2 MIMO Wi-Fi with Bluetooth 2.1. It also includes a microSDXC slot. Video output is handled by a HDMI 2.0 port with HDCP 2.2 support.
The SHIELD Wireless Controller is the game controller bundled with the SHIELD console, and was first launched last year with the SHIELD Tablet. It uses Wi-Fi Direct for communication. A stereo headset jack and microphone are integrated. It also includes a rechargeable battery that can provide up to 40 hours of battery life.
Finally, the SHIELD Remote It is meant to be a replacement for the game controller in situations where single-handed operation is preferable. It uses Bluetooth for communication with the console. Like the game controller, a microphone and headset jack are included. The rechargeable battery is good for up to 4 weeks.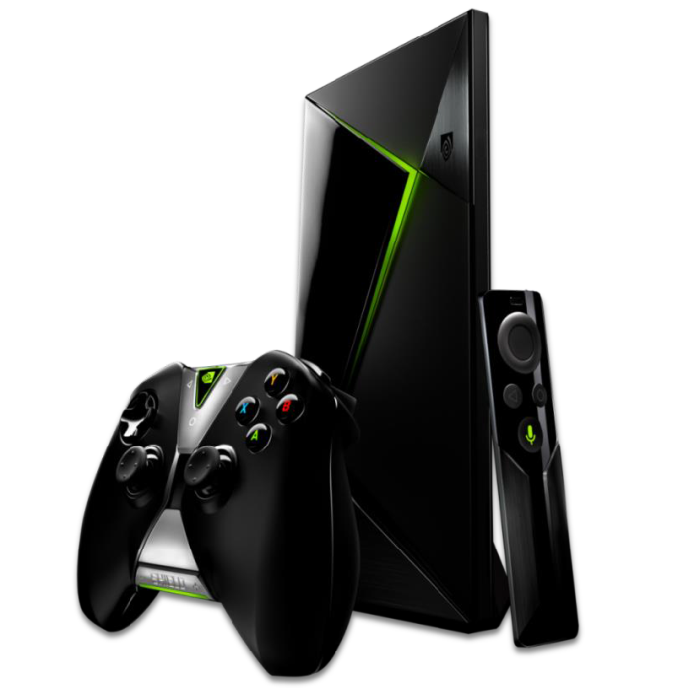 While the game controller and the console together retail in the basic package for $199, the SHIELD Remote is available separately for $50. Meanwhile after a slight snafu where it was announced back in April and then immediately pulled, NVIDIA is indeed offering a higher-end Pro SKU. SHIELD Pro model is similar to the SHIELD described above, except it adds an internal 500 GB hard drive into the mix and bundles a game - Borderlands: The Pre-Sequel! The Pro model is priced at $299.
Prior to diving into the details, let us take a look at the devices that NVIDIA is positioning the SHIELD Android TV against. Note that the two tables below are direct from NVIDIA's marketing material.

As we will see further down in the review, the above table is not far from the truth. In fact, except for NVIDIA claiming that their pulldown algorithm is enhanced compared to the competition, we tend to agree with everything. For the moment at least, NVIDIA pretty much has the 4K set top box to themselves.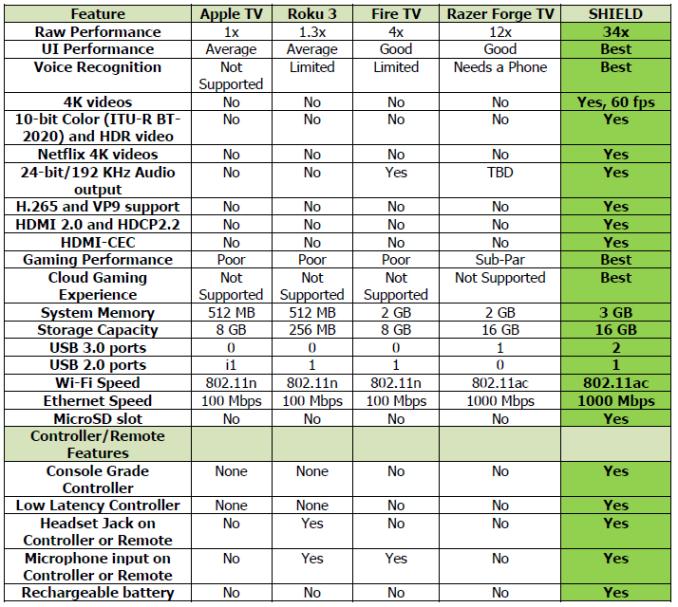 NVIDIA claims a 34x raw performance increase compared to other OTT STB platforms. We won't endorse that particular number, but, in general, the performance of the SHIELD is miles ahead of the competition. The only other entry we find contentious is the availability of 24-bit / 192 KHz audio output. As we will see in the local media playback evaluation section, this is something of a moot point in most scenarios since the unit doesn't have licenses for decoding lossless HD audio. In any case, the above tables give an idea of where NVIDIA is positioning the SHIELD Android TV in the market.
The NVIDIA SHIELD Android TV also happens to be the first shipping product with the Tegra X1 SoC. We will first analyze the SoC and its performance in detail before moving on to Android TV in general and the SHIELD in particular.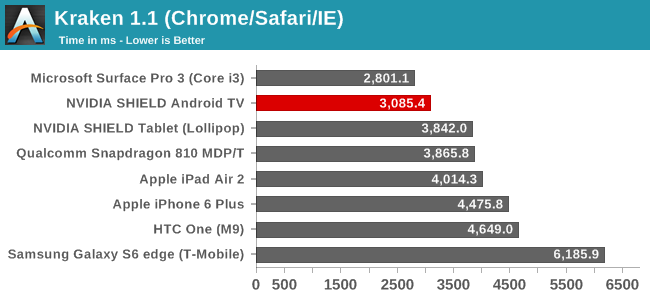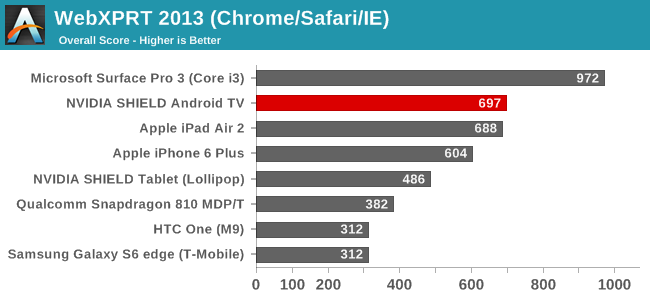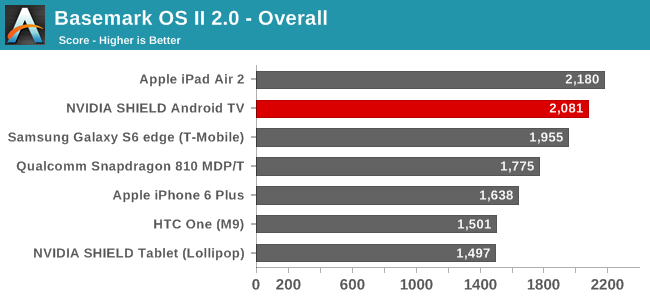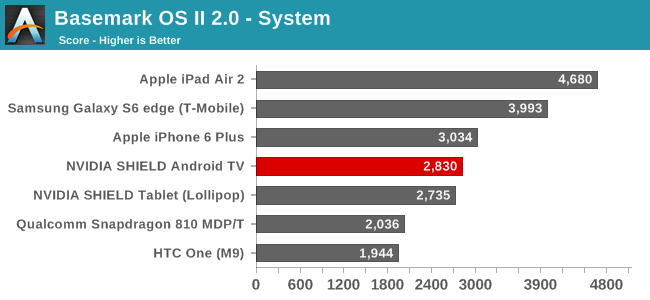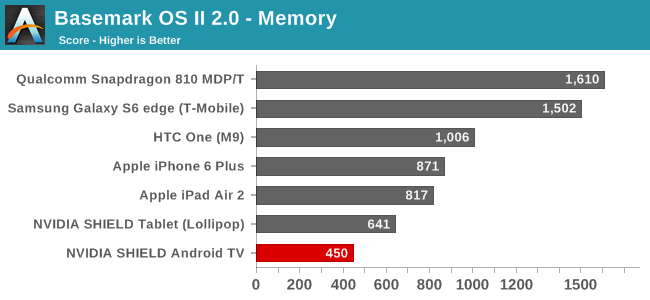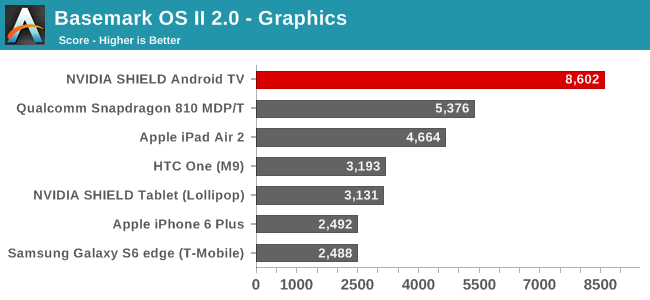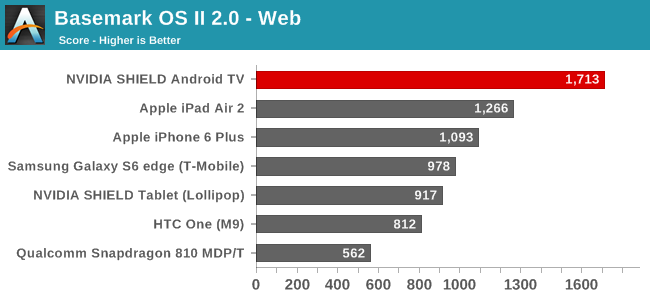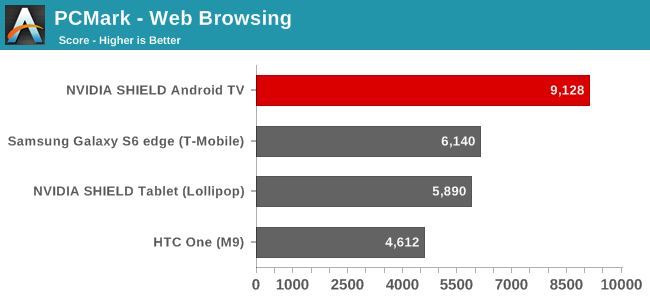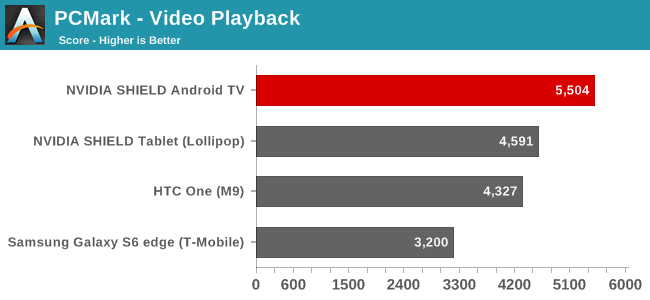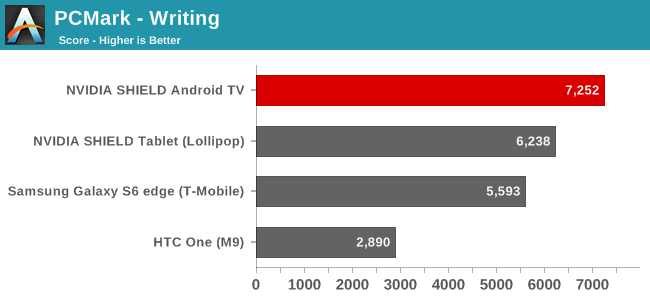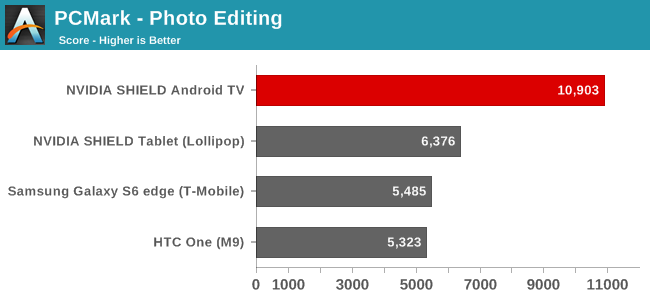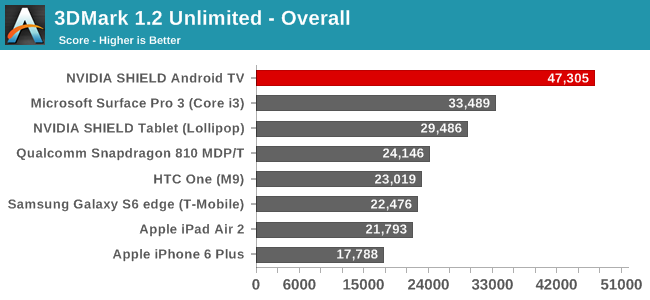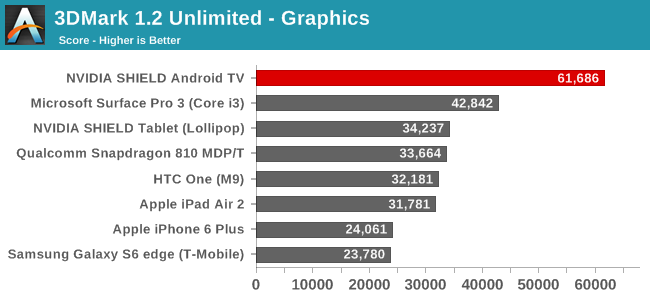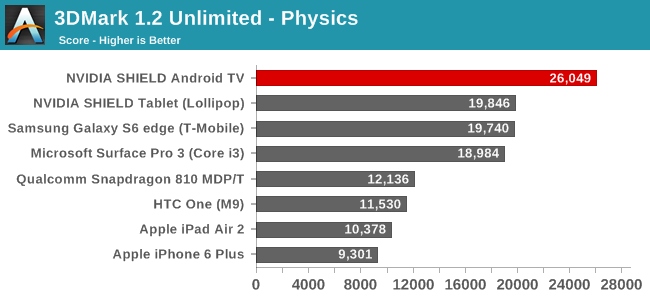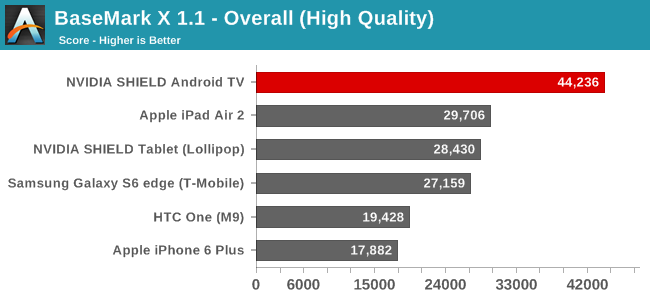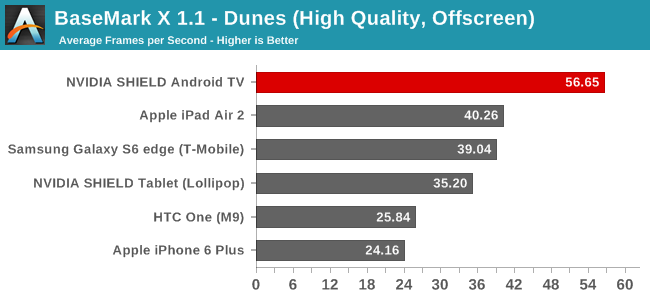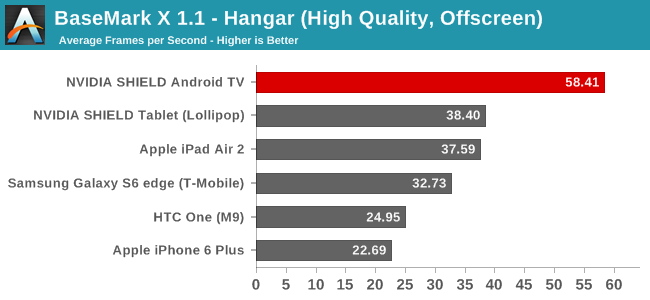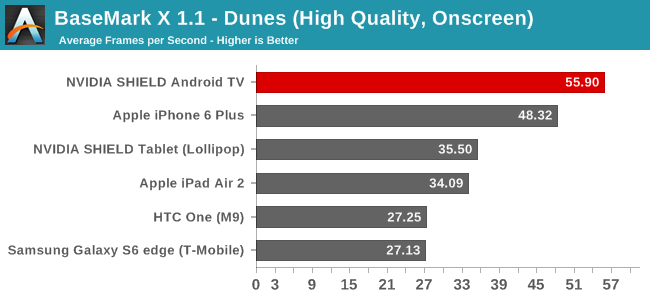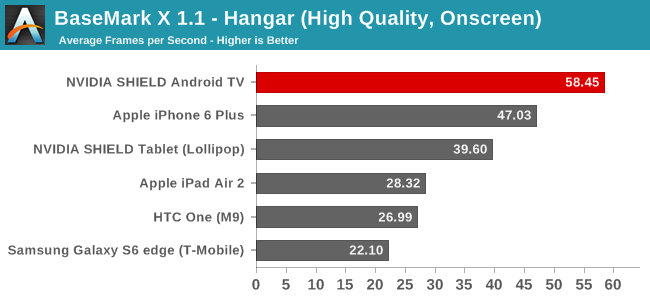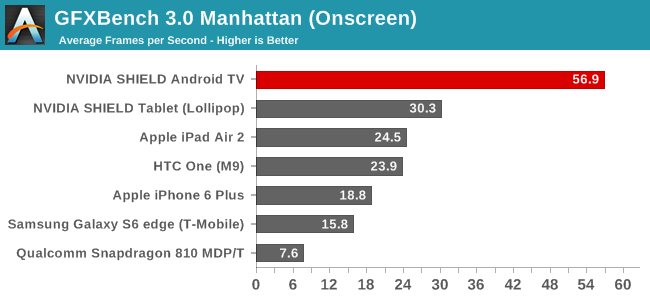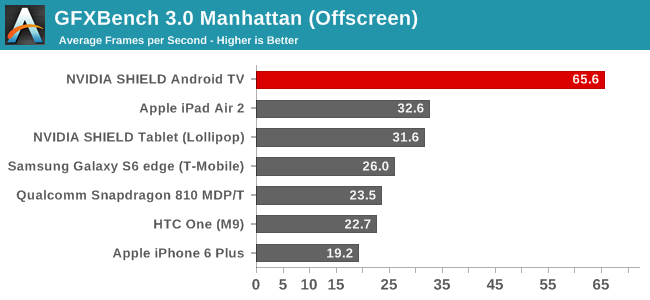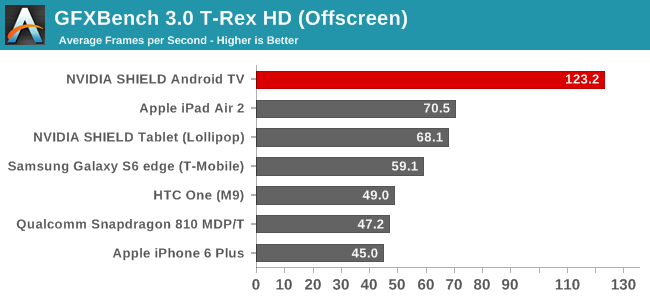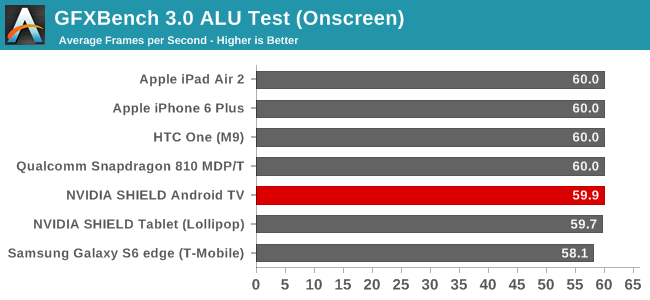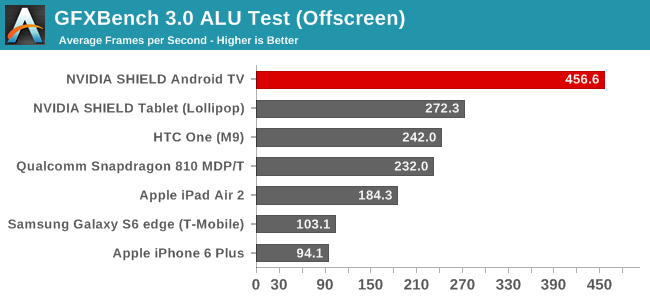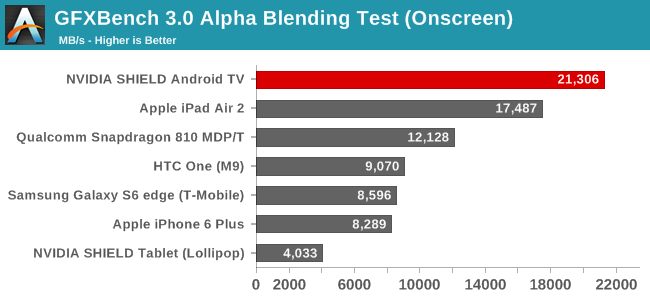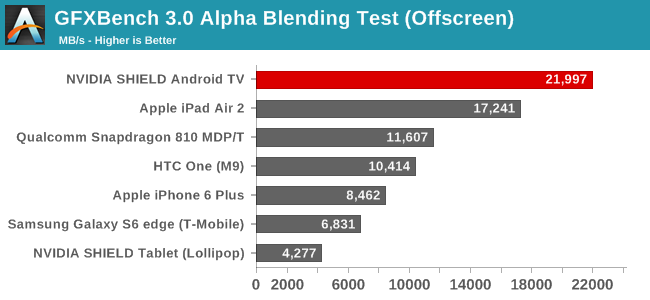 Netflix in 4K and HEVC Decode

The NVIDIA SHIELD is currently the only Netflix 4K-certified set-top box in the market. This certification involves two important requirements:
Presence of a HDMI 2.0 port with HDCP 2.2 capability
Presence of a hardware decoder for HEVC Main and Main10 profiles
NVIDIA was the first in the PC space to bring HDMI 2.0 together with HDCP 2.2 support as well as a hardware decoder for HEVC in the GTX 960. They are also extending this lead to the SoC space with the Tegra X1. Thus, the NVIDIA SHIELD Android TV has turned out to be the first set-top box to meet Netflix's criteria for 4K certification.
The UltraHD-capable Netflix streaming plan is the highest-end one, coming in at $11.99 per month before taxes. If the SHIELD is connected to a HDMI 2.0 4Kp60 sink supporting HDCP 2.2 and the Netflix account is on a supported plan, the Netflix app's UI presents a row of Ultra HD 4K streams in addition to the generic categories. We tested out Netflix 4K on a Samsung HU6950 without an AV receiver inbetween.
Netflix has a special test stream that shows the characteristics of the currently playing stream. As expected, the SHIELD had no trouble in getting to the 4K encode.
In the adaptive streaming process, we came across a host of different encodes. They are listed in the gallery below.
Regular readers of our HTPC reviews might remember that the Windows 8.1 Netflix app tops out with a 5.8 Mbps 1080p H.264 stream. On devices with HEVC support, it appears that this is replaced by a 5.16 Mbps HEVC Main10 stream at the same resolution. There is also a higher bit-rate version (6.96 Mbps) with similar characteristics. Beyond that, we have the 4K stream at 9.6 Mbps. Unfortunately, we don't know the exact characteristics of the encode, but, based on the immediately preceding lower bit-rate streams, it is probably a HEVC Main10 encode too.
The Netflix app gives us an indication that the SHIELD has no trouble with HEVC. In order to confirm this, we put our HEVC test suite through Android's native Video Player.
The video shows perfect playback of 4Kp24, 4Kp25 and 4Kp30 HEVC Main and Main10 profile streams. For 4Kp60, we only have Main profile videos, and the SHIELD has no trouble with that.
On one hand, it is nice to see the SHIELD Android TV's 4K Netflix capabilities as well as support for high frame-rate HEVC playback in a power-efficient system. Though the 4K TV adoption rate is still very low - it's the start of what will be a long process - of anything and everything NVIDIA needed to do to secure their spot as the set top box to have for 4K TVs, getting Netflix 4K support in place is it.
On the other hand, it also reminds us of the sorry state of HTPCs with respect to HDMI 2.0, HDCP 2.2 and HEVC playback. For enthusiasts, it is imperative that PCs catch up soon, given that local media streaming is not a focus point for the SHIELD.
 
Concluding Remarks
The NVIDIA SHIELD Android TV is based on the Tegra X1, which is, without doubt, a very powerful SoC. Ostensibly designed for mobile platforms - particularly tablets - Tegra X1 none the less finds itself in a very interesting (and perhaps unexpected) role as the heart of a set top box. In the SHIELD Android TV, the thermal limits are relaxed and there is no battery life to worry about. Therefore, the SoC performance handily surpasses the currently existing competition in the over the top set top box market.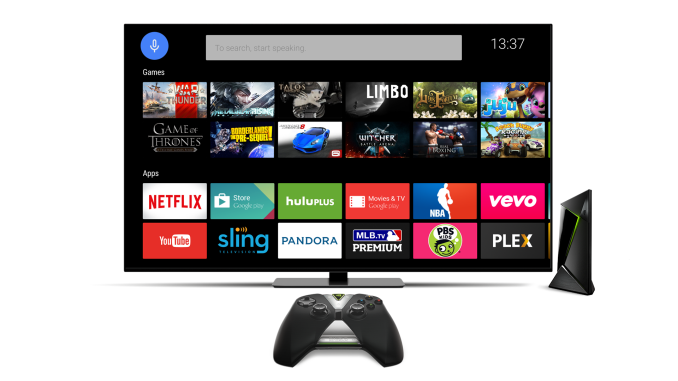 Android TV
Our experience with Android TV was a mixed bag. There are definitely more things to like about it compared to Google TV from a few years back. Advancements in the Android ecosystem and more powerful STB platforms have contributed to the positives. The removal of the web browser from Android TV clears up things for the average consumer.
A good 10-ft UI is essential for interaction on a TV. Subjectively speaking, the Leanback Launcher provides an acceptable experience.
Android TV enables cord-cutting with a "Live Channels" app that takes advantage of TV tuners with IP interfaces and provides an interface to watch them on a television (allowing the TV tuners / antenna to be placed somewhere suitable for good reception and not necessarily near the TV).
Google's voice search (with cross-app searching capabilities) is quite advanced.
Android TV comes with Google Cast - a feature that allows devices like the SHIELD to act as Chromecasts
Android TV comes with an improved selection of relevant apps compared to Google TV from a few years back.
Android TV is more open than any other Smart TV platform - it brings along a lot of the advantages of the Android ecosystem
Android HID support ensures many USB peripherals such as mice, keyboards and webcams are compatible with Android TV devices
On the other side, Android TV still suffers from trying to do too many things at the same time. The 10-ft. UI could be modeled on the default Kodi skin, without the 'Recommendations' row trying to be an advertising window.
Android TV needs better configurability - for example, users should be allowed to change the order of rows in the Leanback UI or even remove some of them altogether. Not everyone wants ad-like 'Recommendations' as soon as they power up the unit. On Android, the 'Notifications' feature is often abused to push advertisements. Users need more control. The option to control the fading and distance between each row in the launcher would also be nice to have.
The Android TV framework needs to do away with forcing 60 Hz display refresh rate for the system. Ideally it should be synced to the frame rate of the content being played back (whenever possible). 3:2 pulldown of 24 fps material for display at 60 Hz creates judder that could be irksome for certain consumers.
Android TV could do with better stability - We encountered a few 'Leanback Launcher has stopped' messages. In certain scenarios, users would also appreciate better responsiveness - for example, the 'fetching recommendations' at startup doesn't allow the user to navigate to the rows further down for a few seconds          
SHIELD
The NVIDIA SHIELD Android TV has plenty of plus points to talk about, once the target market is understood. Simply put, the powerful nature of the platform makes it the undisputed flagship Android TV box right now.
Netflix 4K streaming is flawless. It is the only 4K Netflix certified STB we are aware of. Everything so far has been using in-built Smart TV apps.
The Android TV support is comprehensive. Microphones and headset ports in both the gaming controller as well as the Remote enhance the user experience when combined with the voice search capabilities. The high-performance SoC ensures smooth navigation in the UI.
The SHIELD has full support for decoding HEVC Main and Main10 profile streams. These are the only H.265 profiles that matter for end consumers
Unlike some other 'HDMI 2.0'-capable SoCs, the SHIELD has extensive HDMI 2.0 compatibility with HDCP 2.2 support. It is also firmware upgradable to HDMI 2.0a (HDR extensions). In fact, it fits all our criteria for a future-proof 4K HDMI source.
The CEC capability works seamlessly. A swipe of the NVIDIA logo on the gaming controller and everything in the playback chain turns on.
The bundled gaming controller and the SoC's GPU performance enables Android gaming to go beyond the current casual, free-to-play ecosystem
The device has excellent thermal performance and acceptable / reasonable acoustics despite being an actively cooled device
The SHIELD unit does have scope for improvement. Fortunately, all of them seem to be firmware-dependent. Given NVIDIA's track record with software updates on the PC side, it is likely that most of the show-stopper issues will get fixed soon.
The AV receiver compatibility list needs to be expanded. Dolby Digital Plus bitstreaming (from Netflix) was a no-go with a Pioneer VSX-32, though such cases will soon get fixed via firmware updates.
NVIDIA has skimped on licensing for various audio and video codecs keeping the target market in mind. Only H.264, H.265 and VP9 decode have been licensed on the video side. On the audio side, we only have Dolby Digital and Dolby Digital Plus bitstreaming support. The absence of HD audio (DTS-HD MA / TrueHD) bitstreaming is particularly disappointing, given the capabilities of the core platform. NVIDIA talked about making available a 'codec pack' in the Play Store for users needing hardware acceleration for certain codecs. We will have to see how that plays out.
NVIDIA's experience with HTPC GPUs has not been translated to the SHIELD Android TV due to the limitations of the Android TV framework. We expected NVIDIA to work around that, providing differentiation aspects with local media streaming and video post processing in addition to the 4K Netflix feature.
It would be nice to have better compatibility with local playback apps (like Kodi, MX Player and VLC). NVIDIA indicated that they are working with the developers already. Hopefully, we should see local media playback apps behave better with the Tegra X1 in the coming months.
Moving on to the pricing aspect, the non-Pro model that we reviewed here is priced at $199. This includes the gaming controller (other Android TV boxes treat it as a separate purchase) and a high-speed HDMI cable (supporting 4Kp60 signals). Meanwhile, for a short introductory period, the $199 price point will include a $30 Google Play store credit and a 90-day subscription ($30 value) to Google Play Music All Access.
Otherwise, not reviewed today is the Pro at $299, which throws in a 500GB internal hard drive and a bundled copy of Borderlands. The Pro's further $100 price tag is no doubt going to draw some comparisons to the current-generation consoles - and for good reason, witht he 500GB Xbox One starting at just $50 more - and may be a harder sale for NVIDIA. The large hard drive is definitely wel suited towards gaming, however possibility of also using it for DVRing TV programming through the Google Live Channels app offers an interesting alternative for all of that space.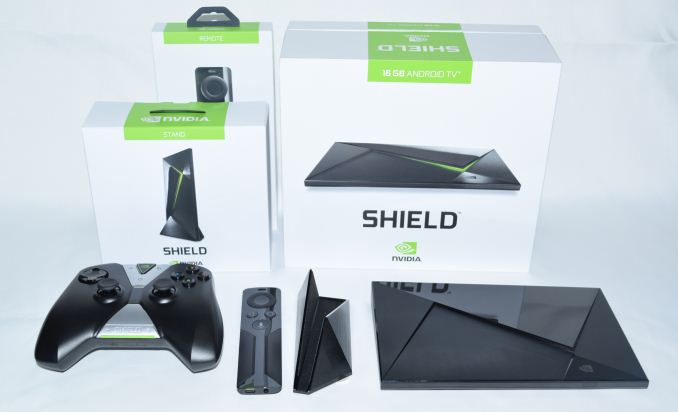 Final Words
The SHIELD Android TV is a reasonably priced premium 4K over-the-top set top box with gaming performance that well exceeds any other STB. In that respect, given the rising importance of OTT streaming and casual gaming in the living room, NVIDIA has achieved what it set out to do.
However, HTPC enthusiasts expecting the SHIELD to be a device that combines leading-edge OTT capabilities with perfect local media playback will be disappointed. The constraints imposed by the closed nature of an embedded system (compared to PCs) mean that the situation is unlikely to alter in a major way in the near future.
Consumers need to get their expectations right - the SHIELD Android TV needs consideration only if OTT streaming (4K Netflix, in particular) and gaming credentials are important. Keep in mind - if you are getting it for 4K Netflix, ensure that each HDMI port in your display chain is capable of both 4Kp60 and HDCP 2.2
Erwägen Sie den Kauf dieses Zubehörs
Dies ist eine Einladung zur Offertstellung. Lieferumfang gemäss Herstellerangabe mit Herstellergarantie; Bilder und Texte können abweichen. Versandkosten basieren
auf einem Gewicht von ?
.