HD Fury 8K VRROOM 40Gbps
Dieser Artikel befindet sich in unserer
Vorführung
. Wir sind dankbar, wenn Sie Ihren Besuch bei uns ankündigen.
40Gbps VRR Passthru or FRL5 Upscale or TMDS/FRL0 Downscale all up to 120Hz while extracting full audio from ANY HDMI source to feed ANY Audio sound system with the best possible audio formats!
WORLD'S FIRST 8K VRR and HDMI 2.1 sound extractor that allows FULL AUDIO (up to receivers audio specs) from ANY external HDMI source to ANY HDMI, ARC or eARC sound system.
State of the art HDMI 2.1 central that support ANY video and/or audio signal in existence today including VRR, DV, LLDV, HLG, HDR10+, DTS:X, ATMOS and more…
Preis und Verfügbarkeit
Produktbeschreibung 1
Produktbeschreibung 2
Zubehör
Stromversorgung: 12 V, Max. Auflösung: 7680 x 4320 (8K UHD), Anzahl Eingänge: 4 ×, Anzahl Ausgänge: 2 ×, Eingänge: HDMI, Ausgänge: HDMI, 3.5 mm Klinke, Optisch
4 HDMI-Eingänge, 2 HDMI-Videoausgänge mit Skalierungsoption und 2 dedizierte HDMI-Audioausgänge
Bis zu 8K/60 Hz Auflösung
Upscale VRR und ANY Signale 2K>4K und 4K>8K (kein Upscale für 1080i/720p/480i oder 480p)
Downscale beliebiger Signale 8K>4K und 4K<2K oder 8K>2K
Full Audio von jeder HDMI-Quelle/jedem HDMI-Ausgang (einschliesslich VRR-Signal) zu jedem HDMI- oder ARC/eARC-Soundsystem
Hinzufügen oder Entfernen von Eingängen aus dem CEC-Netzwerk jederzeit über Webserver, APP, IR/IP oder RS232
1x 8K VRROOM
1x Netzteil
1x IR RX Sensor Kabel
1x DB9 - RS232 Buchsenkabel
1x Optisches Kabel


Unlock true VRR/FRL on Samsung Q90/QN900/QN95 and similar models


Up to 8K60 444/RGB 12-bit via DSC at 96Gbps


Best Audio to your sound system and Best Video to your display, Always & Guaranteed!


World First 40Gbps Upscaler, Splitter, Switcher with full audio extraction for VRR and any signals

Full Audio from ANY HDMI source
 (including VRR signal)
 to ANY HDMI, ARC or eARC sound system

Full Audio up to Atmos/TrueHD from any HDMI source to SONOS Arc/Beam2 or any eARC sound system


Play Xbox 1X games at 4K120 Dolby Vision on LG C9, BX & SONY HDMI 2.1 TV

Work from ANY HDMI source to ANY HDMI, ARC or eARC sound system

Solve SONOS Arc/Beam2 + other lip sync issue when using external HDMI sources connected to eARC TV

HDMI 2.1 Full Audio/Video passthrough up to FRL5: 40Gbps/1200MHz

Upscale FRL5 and ANY signals 2K>4K, 4K>8K and 2K>8K up to 120Hz
 (no upscale for VRR/1080i/720p/480i-p)

Downscale ANY FRL0/TMDS signals 8K>4K, 4K>2K or 8K>2K up to 120Hz
 (no downscale for FRL5/VRR tbd)


Add or remove any input from the CEC network at any time via webserver, APP, IR/IP or RS232

Finally allow DTS sound from source to your sound system even if your TV does not support it.

CEC control from TV at output to source at input

CEC volume control from source to eARC or HDMI sound system

CEC volume control from TV to eARC or HDMI sound system

CEC volume works to eARC TX and HDMI OUT using TV remote or source remote

ARC/eARC retrieval from TV ARC/eARC input to ANY HDMI, ARC or eARC sound system

Support for 1080p120, 1440p120 and 4K120 as well as any VRR signals
 (Xbox series X, PS5, GPU and others)

Allow DV content playback from LLDV capable source on any HDR10 display for improved picture quality

1 HDMI2.1 Audio/Video output has a downscaler for improved picture quality on 1080p/2K or 2160p/4K TV

Allow HDCP 2.3 > 1.4 Conversion

Perform Chroma, Color space and Color depth modification always or only if needed

Increase or decrease nits value of HDR metadata in real-time during HDR playback

Live signal info and details on Webserver, APP, OSD or OLED

4 buttons for OLED menu navigation

Relay Port
 (for automation)

RS232 jack connector
 (for integration and control, not needed for the average user)
Information
World First HDMI2.1 8K VRR FRL5 adapter!
8K VRROOM allows ANY HDMI sources (FUHD source, Blu-ray, UHD Blu-ray, media players, satellite receiver, game consoles, PCs, etc.) to be shown on ANY of the connected displays and ANY sources Full HDMI audio to be extracted and forwarded to ANY eARC/ARC or HDMI sound system for up to Dolby Atmos, Dolby TrueHD, Dolby MAT Atmos, DTS-X, DTS-HD Master Audio and older formats. 8K VRROOM is the smartest converter solution for interoperability between any HDMI sources and any HDMI display or any HDMI/ARC/eARC sound systems.

Hardware-wise, the 8K VRROOM central is featuring 4 HDMI inputs, 2 HDMI video output with scaling option and 2 dedicated HDMI full audio outputs, one for ARC/eARC sound system and one for any 720p or 1080p capable HDMI sound system, LAN Control, RS232, L/R stereo or Optical up to DD+ 7.1 output, IR RX, IR sensor, IR window, OLED display and 4 buttons on the side allowing to enter/exit and perform change in the device system menu. 8K VRROOM offers an unique relay port to begin our journey in automation.
All inputs are capable of 4K and 8K VRR/HDR/HLG/DV/LLDV/HDR10+ up to FRL5/40Gbps/1200MHz for video and support any sound format in existence today, HDMI TX0 and TX1 video outputs are capable of outputting FRL5/VRR/40Gbps/1200MHz and all sound formats as well. 8K VRROOM is running in a Splitter/Switcher/Pass-thru or Upscaler default mode ensuring your setup remains optimized at its best capabilities, you can however select any other operating modes at any time, Matrix, Downscaler, etc…
Software-wise, 8K VRROOM provides you full control via LAN connection and the embedded HDfury webserver !
You can use any web browser based device such as any computer, tablet or smartphone on the same network to access, control and update the 8K VRROOM Central, the process is as easy as visiting a web page.
All HDfury legacy features remain present, each input EDID can be set individually from a list of 100 EDID, HDCP conversion, Scaling and signal operations such as Chroma/Color depth/Color space, HDR metadata manager, LLDV datablock editor, PJ&Display macro, Infoframes modes, CEC command, ARC/eARC, HTPC mode, special modes, VRR and normal signal sound extraction, TMDS switching for all inputs to autoswitch sources such as ATV4K, X1X or Shield that no other switch on the market are able to autoswitch. Additionally 8K VRROOM can physically cut any output power via software trigger.
All setup information are visible at first sight via OLED, On Screen Display or Webserver. 8K VRROOM is the smart solution and converter for interoperability between any HDMI revision equipment, for content creators, calibrators, streamers, digital entertainment centers, FUHD TV, UHDTV retail, show sites, data centers, schools, conference or home cinema and much more.
Pre-release demo video (click to open in a new browser tab):
1. Xbox serie X playing game called "CONTROL" at FRL5: 4K120 to LG CX TV for video and with Atmos sound to SONOS Arc
2. Xbox serie X / ATV to eARC and HDMI AVR 


3. Xbox serie X 4K120 DV Gaming and full audio to eARC and HDMI AVR 


4. VRROOM makes SONY 2021 HDMI2.1 TV Play XBOX ONE X 4K120 DV 

Technical specs
HDMI revision:
HDMI 2.1 FRL5(1200Mcsc – 40Gbps)
Support:
1200MHz/40Gbps VRR, QMS, QFT, DSC1.2a, HDR10+, HLG, DV & LLDV, ARC, eARC, ALLM, IMAX
Max Resolution:
8K60 444 12b DSC, 4K120 422 12b, 4K120 444/RGB 10b VRR/HDR, 8K30 422 12b, 8K30 444/RGB 10b or 8K60 420 10b
TOTAL I/O:
4 HDMI In, 2 HDMI Out, 1 HDMI eARC Out, 1 HDMI Audio Out, 1 RS232, 1 RJ45, 2 IR, 1 Relay Control, 1 Analog Jack & Optical Out.
Pass & Upscale TX0 port:
FHD 1080p, 2K-DCI or UHD 2160p, 4K-DCI -> UHD 2160p & 4K-DCI or 8K FUHD
Pass-thru 40Gbps VRR + FRL5 Upscaling supports any Frame Rate signal up to 120Hz
Pass & Downscale TX1 port:
8K FUHD, 4K-DCI or UHD 2160p -> 4K-DCI, UHD 2160p or 2K-DCI, FHD 1080p
Pass-thru 40Gbps VRR + FRL0 Downscaling supports any Frame Rate signal up to 120Hz
Full HDMI Audio port:
Full HDMI/ARC/eARC Audio extraction and forwarding via 720p/1080p self generated stream to any AVR or sound system HDMI input
Full Audio eARC port:
Full Audio up to Atmos MAT or Atmos over TrueHD from HDMI source or ARC/eARC display to ARC or eARC sound system
TMDS Switching:
Autoswitch support for ATV4K, X1X and others sources continuously sending +5V
Conversion:
Resolution, Chroma Subsampling, Color Space, Color Depth, HDCP
HDCP Conversion:
Any HDCP to any HDCP with CST1 support
Operating Modes:
40Gbps FRL5 Splitter, Switcher, Upscaler + VRR pass and 18Gbps Matrix + FRL0 Downscaler with CEC, eARC, ARC and EDID management
Special Modes:
CEC hardware enable/disable for all input ports, CEC Command, HTPC, Disable or replace HDR/HLG, RS232 Macro, DV/LLDV to HDR10 display, Boost HDR nits value, Translate HLG>HDR, HDMI Doctor
EDID Modes:
Automix with flags and algo, copy sinks, 100 EDID Banks (10 custom) + optional LLDV datablock
Control Modes:
HDfury Webserver, IR, IP, RS232 for Linux/MAC/Win or push buttons via OLED
Input Control:
Fully disconnect any input from CEC via software.
Output Control:
Fully disconnect any output via software when not in use.
On Screen Display:
ON/OFF/timer with choice of text color + Editable custom text and mask. (cover TV channel logo)
OLED:
3.12″ Diagonal, 256×64, 16 blue colors
Size:
4.5″L x 7.3″W x 0.9″H – in CM: 11.5 x 18.5 x 2.4
Weight:
520g – 1.15 LBS
Input Lag:
<1ms (nanoseconds count)
Other info:
3D Support, CEC Pass Through, DSD, eARC (HDMI2.1)
Elements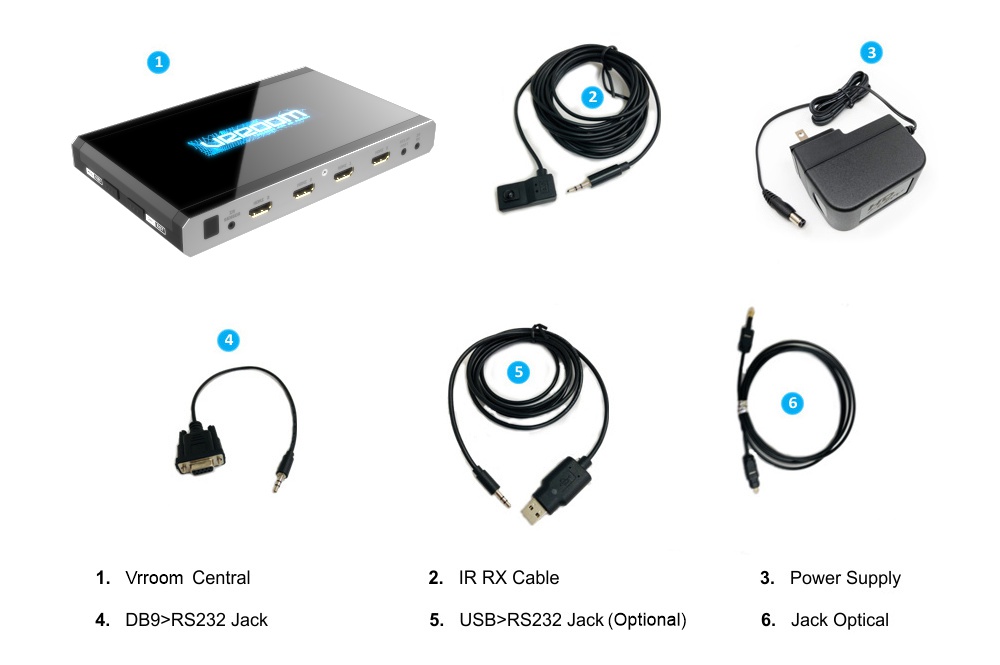 Erwägen Sie den Kauf dieses Zubehörs
Dies ist eine Einladung zur Offertstellung. Lieferumfang gemäss Herstellerangabe mit Herstellergarantie; Bilder und Texte können abweichen. Versandkosten basieren
auf einem Gewicht von ?
.